---
- An Interesting Occasion at RAF Buchan -
---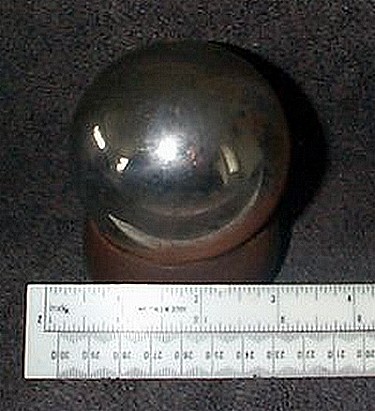 Although the Type 80 was a robust and pretty reliable machine, old age could not be prevented from taking its toll with the one at Buchan and one of the ways in which senility manifested itself was that, to put it rather impolitely, it developed trouble with its balls. The steel three inch variety that is, the ones in the massive race on which the whole reflector structure rotated. Here one of those balls is shown sitting on the spacer which separated it from its neighbour, and some erosion of its surface is evident.

Strangely the spacers are not shown in the exploded view on the previous page but that diagram clearly indicates the awful job it would have been to gain access to the ballrace if replacement was required. Presumably the designer's brief had not required that possibility to be anticipated, perhaps because the design requirement was for a much shorter life in service than the one required of the Buchan machine. Wing Commander Ron Cripps was the Technical Officer in charge of the engineering feat required to accomplish the bearing change and the responsibilty did not rest lightly upon his shoulders, as although he had successfully completed this undertaking several times previously, the task had never before been attempted in such a windy location. It was breaking new ground which could very easily end in irrevocably breaking the Type 80 too. Both civilian contractors and his own RAF resources had to be organised, including the amassing of many railway sleepers, a scarce commodity in that part of Scotland, with which to build on the soft peaty soil a suitable bed on which to rest the reflector. A major hazard was the changeable weather experienced in the north east of Scotland, as a windless period of least a week being needed, so that minor miracle had to be organised too. Ron has very kindly provided these unique pictures exclusively to this site.

&nbsp All is ready for the lift &nbsp &nbsp &nbsp &nbsp &nbsp &nbsp &nbsp &nbsp &nbsp &nbsp &nbsp &nbsp &nbsp &nbsp The huge ballrace is covered by the rubber sleeve.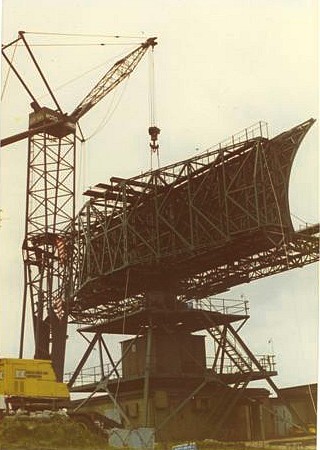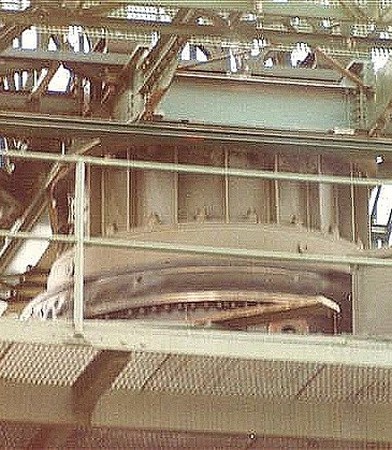 And this is where one of the turning motors is situated.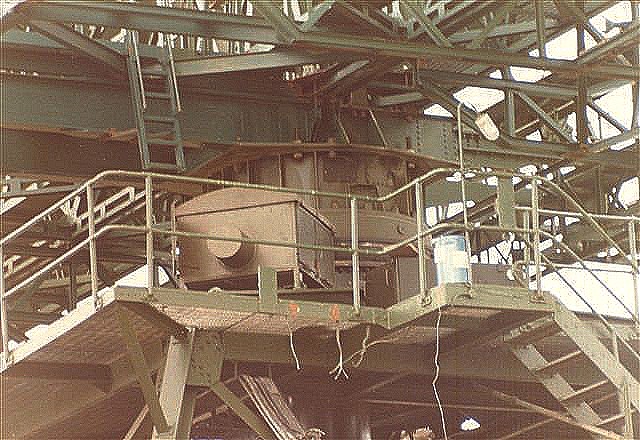 And here we see the reflector together with Ron's career hanging in the balance.
The build up of any pendulem effect at this point would have been disastrous.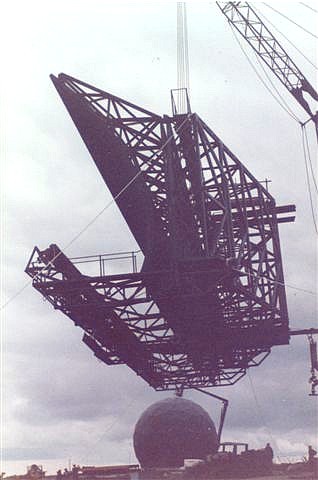 I bet getting it all back together again was even more fraught than the dismantling. But happily all went well and the successful operation undoubtedly provided an additional feather for the Technical Officer's cap.

All the pictures were taken by Ron and are strictly his copyright. Anyone wishing to download them with a view to publishing should contact the owner via this site.

P.S.Two interesting post scripts has been received.

L/Tech/gr Dave Denman who was at Buchan from 1976 to 1980 reports that the old ball bearings remained around the site and were sometimes used to play indoor bowls when great accuracy was required as each ball weighed about four pounds and table legs proved vulnerable. Also he says that eroded framework was discovered when somebody painting it pushed his scraper right through a girder. In addition some of the very large nuts on the seaward side were found to have eroded away almost through to the thread!

The second from from Keith Mc.Qu (RAF rank not disclosed) :-

"The Buchan ball race was replaced for a second time in 1990. Whilst the team came from "the G", they had less experience than the Type 80 guys at Buchan, and the work was largely overseen by them. The OC Eng at the time was probably Sqn Ldr Dennis Rait. The Buchan Type 80 developed a "clonk" in it's final year every time it turned through the wind. The fault was traced to part of the frame. A temporary repair was effected using a large plank of wood and a number of G Clamps. The radar was decommissioned with these still wire locked in place."

Top of page...or...Previous Page
Text © 2006&nbspD.C.Adams.
Pictures© 2006&nbspR.Cripps
Rev100208