---
Squadron Leader "Jock" Craig
---
I recently (March 2013) received an Email from Sqdn.Ldr. Craig's daughter and she has now kindly provided the following information about her father.

"On searching the Internet to find out about RAF El Adem because my father had seen service there, I came across this site and for the first time I was able to see the huts of German Town, a place I had heard my father mention. Don has offered me this opportunity to supply the Internet with a few more details.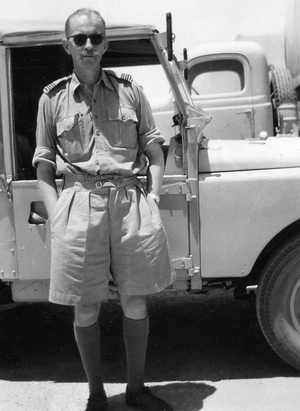 My father, Charles Hunter Craig was born in 1908 at Broughty Ferry, Dundee. On leaving Dundee High School he served his time as an articled clerk with a firm of Dundee solicitors only to realise that he definitely did not want to spend his working life as a lawyer. He then began a career in Theatre and Cinema Management but in May 1940 he volunteered to join the RAF and was commissioned in the RAFVR in April 1941. He then trained as a Fighter Controller seeing service at RAF Tangmere 1941 and RAF Aston Down in 1942. By the run up to D.Day he was Fighter Controller at RAF Kingswear in Devon and finished the war with the rank of FL/Lt.
At that time he did not get his wish to stay in the Service and so returned to Civvie Street. However in the summer of 1952 after completing the required Reserve training the opportunity arose to apply to get back in. His application was successful and his first posting was to RAF Langtoft in Lincolnshire, again as a Fighter Controller.
He obtained a short service commission in March 1953 with the rank of Flying Officer. In mid 1954 he was posted to RAF Habbaniya in Iraq and that is where this photograph was taken. It was a two year posting and he was attached to a small Radar station somewhere out in the desert - with a lot of snakes and a pet mongoose with which to kill them! Its name was Rikki.
Back home he became CO of RAF Barton Quarry in Edinburgh for two years but in the latter half of 1958 at very short notice he was required to lead the emergency detachment to RAF El Adem with the rank of Squadron Leader.
On returning from Libya at the end of December 1958 he spent a few months at RAF Buchan following which he was posted to 2nd. ATAF HQ at RAF Rheindalen (Nr. Moenchen Gladbach) where he became a member of a NATO committee which attemped to construct a universal RT language for ground to air communication for all the differing countries involved. His final posting at end of 1962 was to RAF Pitreavie in Fife on Search and Rescue control.
Known throughout his service as "Jock" Craig, on retiring he claimed to be the oldest serving officer at the age of fifty five. After retirement from the RAF he was a Golf club Secretary in Edinburgh and Belfast. He died in 1992."
Return to to previous page.....or return to Index
Text © 2008&nbspJoan Heron
Rev161014