---
- The Neville Price Page -
---
Neville, who now resides in Mount Barker, Western Australia, has kindly sent in these memories of his National Service:-

I have a few memories of my R.A.F. years but they are not as many or as well documented as yours, Don.
Cardington.
The giant R 100 and R101 airship hanger and on the first or second morning after arrival there, an unnamed corporal entering our block with a "Good morning Gentlemen" to all and sundry and asking "did we have milk in our tea and how many sugars would we prefer?". This was closely followed by an invitation to sign on the dotted line for 12 year service. I don't know if anyone fell for it.
West Kirby.
My experiences mirror yours to a large degree although I was in Trenchard flight and the only bloke I remember was an ex silk screen printer from London. His name was Alan Tinsley and he was a twelve year man. Despite these failings he was a bloody nice bloke. Of our N.C.O. D.I's one was named Bell. Another , I met again in the N.A.A.F.I. at Leeming in 1959. He was now only an L.A.C and said that West Kirby had closed or was closing down and that he had reverted to rank as all D.I's were only acting corporals.

Having undertaken aptitude tests and gaining sufficient marks to be able to choose a career from within the second highest group of trades (J.T's were in the top group, smartie pants) I chose to become a radar operator , later known as air defence operators and was subsequently posted to :-
Compton Basset.
I spent about 8 weeks here for trade training. The nearest town was Calne famous for it's sausages and scrumpy. Another memory is of Salvation Army Ladies arriving in time for morning tea break and having warm jam doughnuts for sale, still the best I have ever tasted, together with the ubiquitous cuppa.
Seaton Snook.
We lived in W.A.A.F. quarters, two double bunks per room .It was getting late in the year and the weather was getting colder so it was a great treat, having arrived back from a weekend leave cold and miserable in the early hours, to have one of the blokes make us a cup of hot cocoa for which we were charged the princely sum of threepence. We would drink this lying in bed helping us to get warm before getting our heads down. Then there was the local bus which would pick us up adjacent to our quarters and at no charge drop us off near the ops room which was hidden below ground with access via what appeared to be a farmhouse. Around Christmas 1957 we were posted to:-
Leeming.
I remember that journey. We travelled by R.A.F. bus in a heavy fog with snow metres deep. At some point in the journey the bus ran off the road into a ditch with it's tail still on the highway. Because of the fog blokes were told off to stand on the road at each side of the bus and warn oncoming traffic so the risk was considerable to say the least. We could hear traffic coming but were unable to see anything until the last second at which point there would be much frantic waving of arms followed by smart avoiding action by all concerned. Then standing on the guardroom verandah at Leeming, late at night, freezing cold waiting for the duty N.C.O. to organise sleeping arrangements.

Our Leeming G.C.I. unit officers were:- C/O Sqd. Ldr. Allen , Fl/Lt Bibby , F/O Appleyard (Appleton) and P/O "Young Blossom" who's real name escapes me. Our Senior N.C.O. was a Flt Sgt who's name I think was Barker. All these blokes earned our respect but there was one, fortunately a Station and Non unit officer with whom we had dealings , who didn't .I won't mention his name but you might remember him . He had no management skills but considered himself an actor.

I remember the smell of burnt jet fuel when in the unit bus following the Javelins around the perimeter track. Playing cards late at night in the ironing room , it was warm in there. The station radio broadcasting classical music via the Tannoy system. The bloke who copped a six month posting to Saxa Vord and who was offering 50 pounds to anyone willing to swop. Receiving a phonecall at the unit late at night informing me I was posted to:-
Innsworth
for overseas duty. The panic arrival followed by the hurry up and wait syndrome followed in turn by fourteen days embarkation leave. Then after about a week a telegramme calling us back to Innsworth for kitting out then via Nice and Malta on to:-
El-Adem.
We were told to keep a low profile therefore we travelled in civvies via Viscount from Gatwick.
The impromptu "band" soon after arrival that banged and crashed it's way around the buildings of German Town to the stunned amazement visible on the faces of the permanent residents .
The generous open invitation from them to us for the use of their bar facilities.
The aircraft that belly landed in a cloud of dust .
The Hunter aircraft of no. 1 Sqdn. R.A.F. over flying the airfield in a huge figure one formation.
The heavily chlorinated drinking water which made bottled drinks very popular.
Our "Dhobi wallah" Mohammed Dahoud who would clean out our billets for a few piastre and the amount of unwanted gear that was given to him by the blokes when they left. He must have felt like a millionaire.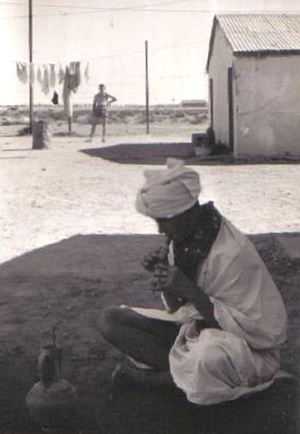 The Arab playing a flute which attracted a snake from an urn. The bloke, Eddie Hughes, the flute and the Urn are real aided by a bedsheet and a piece of stiff wire.
Using pneumatic drills to punch tent peg holes in the solid rock which was only a few inches below the sand.
The radar caravan at the op site late at night with nothing on the screen, talking to F/O "Chalky" White. He was an officer who had come up through the ranks. Good bloke although not very popular early in the piece as it was he who had organized the marking out of pathways at the site with lumps of rock which then, in typical R.A.F. fashion, had to be whitewashed.
24 Hour guard stags on the main camp 2 on,4 off, wandering around the buildings and guardroom , alone, except for a rifle and five rounds.
Ditto on the Vulcan bombers on their brief stay at El-Adem anyone who came near was to be challenged and had to show and prove I.D. under threat of being shot.
The trip to Derna and Cyrene and those kids at Apollonia. Where are they now ? "Up the Villa" indeed!
The four day wait in transit camp under canvas on the way home. We were booked on first flight, a Comet, which for some reason was cancelled and we finally left on an old Hastings. Our scheduled landing at Lyneham being scrubbed because of fog , the place was fog free for 364 days a year, and being sent all the way down to St.Mawgan in Cornwall. Two hours sleep then up and off again on disembarkation leave.
The return to Leeming and being met by "chiefy" Barker with the words "Hello, are you back again?".
Wanting to extend my lenghth of service (sign on) but family circumstances being what they were, being unable to do so and so being demobbed in June1960.
Wandering around the station collecting signatures from different head s of section and upon seeing an approaching officer throwing up a magnificent heads right salute as I marched past him. Trouble was I was a bit too early into the exercise and instead of being up two three four five, it became six seven eight nine ad infinitum, until past him. No matter it was my last day and he seemed chuffed anyway.

Reading your website has brought back some of these memories. The old grey matter may yet allow more. If so I will be in touch again.

Return to Index...or...Return to Personnel LIst.

Return to Pictures

Text& Photo© 2006&nbspNeville Price

Rev1911206